Fundraising
In order to support our community projects, our club conducts several fund raising activities. These include:
Annual Chicken BBQ. Since 1957, we have done a chicken BBQ event in Patriarche Park. This is our most important fundraising event. Besides proceeds from the BBQ, local businesses and organizations help sponsor the event. People can pick up meals at a drive through lane, or come and enjoy a summer evening in the park. Businesses or organizations can also order bulk dinners for complementary delivery in the East Lansing area. The Kiwanis East Lansing Community Band also puts on a concert in the park.

In 2020, because of the Covid Pandemic, we are unable to hold our usual BBQ in the park. However, we sponsored a "Virtual BBQ" where you could purchase tickets that could be redeemed at three local restaurants. Click here to see details.
The Kiwanis Club of East Lansing is excited to partner with East Lansing Public Schools to present the first annual BBQ Football Classic (see flyer below)! Join us Friday October 8 and enjoy the traditional Kiwanis Chicken Dinner at one of two locations – in a drive thru line at Patriarche Park or at East Lansing High School. Dinners will be ready at 4:30 and we will serve at the High School until 6:30 and at the Park until 7:00. Then attend the game and root on our East Lansing Trojans as they battle the Holt Rams. Dinners are only $15 each and proceeds go to support Kiwanis's work in the community as we work to accomplish the Kiwanis Mission of making the things better for the children of the world. If you might like to be a sponsor of this event, click here for more information.
Annual Golf Outing & Raffle. In September we hold a golf putting outing, followed by a raffle, silent auction, and dinner. Besides members and their friends and families, local businesses and organizations can sponsor foursomes.
Charity Poker Parties. We host a series of charity "Millionaire" poker parties. Profits go to our service projects for kids.
Amazon Smile. When shopping at smile.amazon.com, members and supporters can arrange for Amazon to donates a fraction of their purchase to The Kiwanis Club Of East Lansing Foundation.
Note that all proceeds from such events go to support our programs in the communities. Our administrative costs (e.g., internet services, meeting expenses) are covered entirely by members' dues and by donations.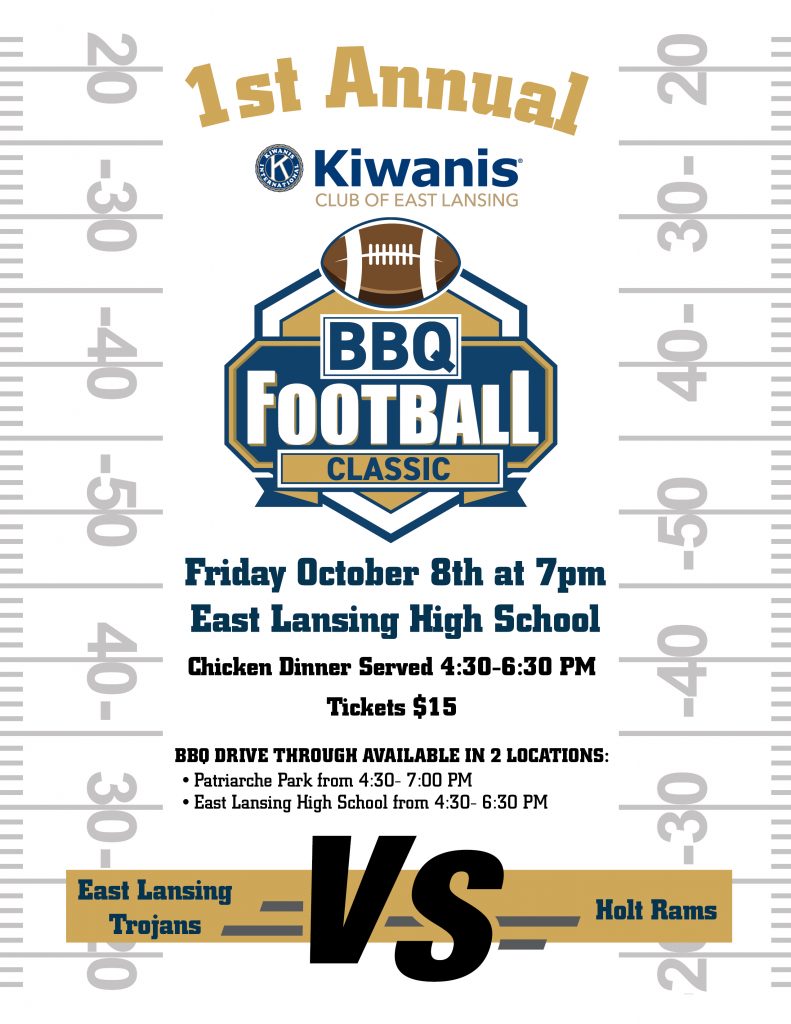 Here are sponsors and Partners for the 2021 Annual Chicken BBQ
Many thanks to these businesses and organizations for their generous support of the East Lansing Kiwanis.