Kiwanis Club of East Lansing | Home
During the Coronavirus Pandemic…
For those unable or disinclined to attend weekly meetings in person, one can attend via Zoom. Contact the club secretary for access information.
Check our Club Calendar for the latest information on meeting and event cancellations.

The Kiwanis Club of East Lansing is excited to partner with East Lansing Public Schools to present the first annual BBQ Football Classic! Join us Friday October 8 and enjoy the traditional Kiwanis Chicken Dinner at one of two locations – in a drive thru line at Patriarche Park or at East Lansing High School. Dinners will be ready at 4:30 and we will serve at the High School until 6:30 and at the Park until 7:00. Then attend the game and root on our East Lansing Trojans as they battle Holt. Dinners are only $15 each and proceeds go to support Kiwanis's work in the community as we work to accomplish the Kiwanis Mission of making the things better for the children of the world.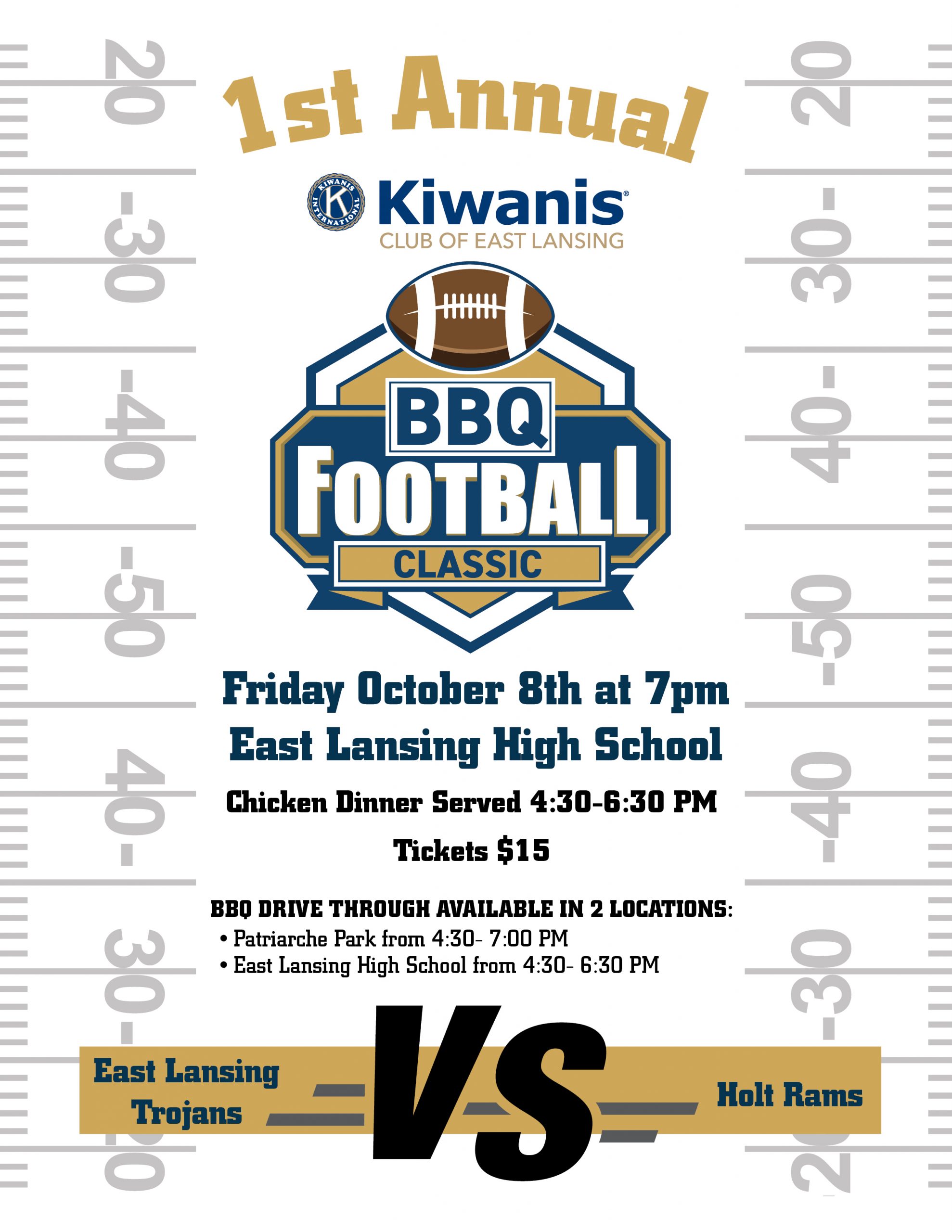 If you might like to be a sponsor of this event, click here for more information.

To honor the memory of Don Power
In partnership with the Pinecrest Community Association, our club recently installed this bench at the Henry Fine Park, near the Pinecrest Elementary School. The bench honors our late member, Don Power, who took a vital interest in the East Lansing community.
See here for more about our club's recent activities.

Our club
The Kiwanis Club of East Lansing is a service club chartered November 11, 1949, and devoted to improving the quality of life in our community, state, nation and worldwide, with a special focus on the needs of children and young people.

Kiwanis is a global organization of volunteers dedicated to changing the world one child and one community at a time.

What is Kiwanis?
No, we are not an airline (That's Quantas) We are a service organization that helps kids. Here is a quick video that explains what Kiwanis is
Interested in learning more? Please contact us or apply to join our Kiwanis club here