Our Community Service Projects
Check out our news page for special projects being carried out during the Covid pandemic.
Below is a list of the projects and activities in which we have been involved over the past two years:
Weekend Survival Kits1–Biweekly weekend kits of food are distributed to students identified by social services. Additional food deliveries to the homes of children during school closures.
Dictionary Project2–Dictionaries for East Lansing third graders to keep are distributed each year. Sixth graders receive thesaurus. We also deliver these to other schools not within the public school system.
Kiwanis Snack Packs2–Snacks are given to each elementary school teacher to distribute to students who can not afford or did not bring a snack for the day's break. This snack allows teachers to not purchase snacks out of pocket.
Student of the Month Awards2–Students in the Middle and High Schools acknowledged by their teachers are awarded for their contribution to the class. The teacher, principal and parents join in the awards luncheon.
Meals for Davies Project3–Provide meals for families making doctor visits (Click here to learn more about the Davies Project.)
Kiwanis Annual Candy Hunt4–Children of all ages through fifth grade hunt at Patriarch Park for bags of candy. Areas are separated by age groups to allow toddlers more time to find their treats.
Holiday Meal Delivery5—Holiday meals and food baskets are delivered to homes from St. Luke Ministries kitchen.
Book Distribution6–Working with the CALC, books are distributed to area schools for students to take home and keep. Used children's books are collected by the club for distribution. Hundreds of books have been given out to students in each elementary grade level.
Books and Ice Cream7–Middle school students are invited to come to the East Lansing library for summer sessions with a librarian to talk about the book that had received and read prior to the fun and games meeting.
Kiwanis Community Band8—A 60 piece band is open for all community musicians to join in summer outdoor concerts. Free concerts are performed throughout the area.
Community Kindness–Small tokens of thanks are periodically given to city workers, teachers and health care providers.
Our Project Partners:
For several of our community projects, we work in partnership with other corporations and organizations. Here are some of our partners.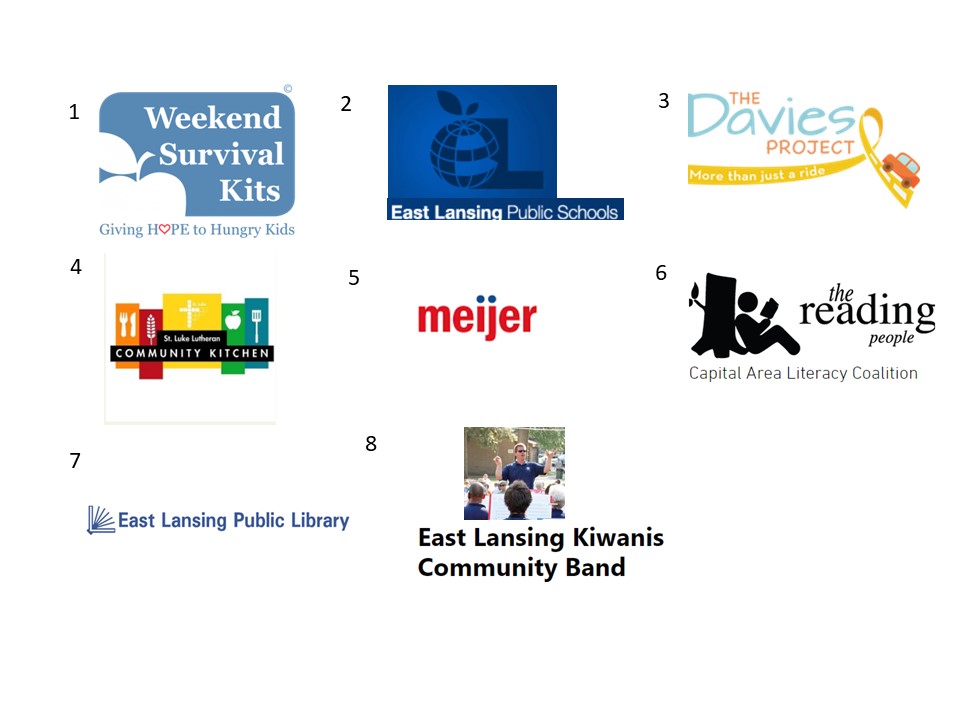 Potter Park Zoo—Our Foundation contributed to the medical clinic for zoo animals including an educational display for zoo visitors.
Weekend Survival Kits—The WSK program purchases and packages food kits that go to needy families to supplement in school nutrition programs.
Rebuilding Together—Funds are used to buy building supplies to renovate homes of needy seniors in our community.
Davies Project—This project provides rides to medical appointments for families without other transportation options.
St. Luke's Lutheran Church Community Kitchen—Foundation funds used to purchase food that goes into holiday meals.
WKAR Read, Write, ROAR Program—The Foundation grant used to purchase books given to children participating in WKAR's literacy program.
East Lansing Public Schools/Pinecrest Elementary—Foundation purchased Comfort Carts for the use of special education students.
Pinecrest Elementary—The Foundation funded a park bench in the school playground as a memorial to Kiwanis member Don Powers.
Great Lansing Food Bank—During the pandemic, the Foundation made direct contributions to the area's largest food bank.
Youth Leadership Programs

:

Our club also sponsors youth leadership programs at the East Lansing High School (Key Club) and Michigan State University (Circle K). Click here to find out more.
Past Service Projects

:

Click here to see some of the service projects undertaken in the past.