E. Lansing Kiwanis in the News…
2023 Easter Holiday Candy Hunt
Thanks to everyone who helped set up this year's Candy Hunt (special thanks to Barb Hollstein and Dave Bueche). The weather was beautiful! Thanks to our partners, Meijer, East Lansing Public Schools, East Lansing Police Department and East Lansing Parks and Recreation for helping add a little joy to many children's and our weekend.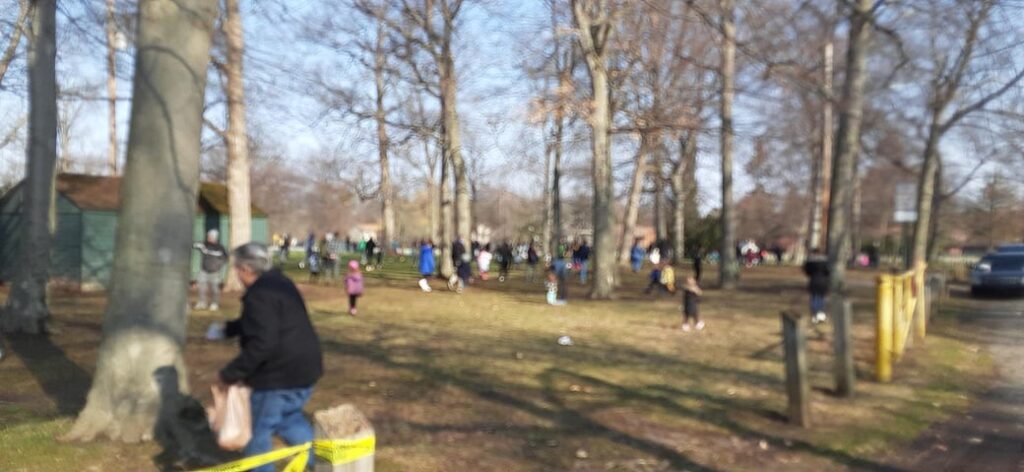 Lansing Area Kiwanis help build beds
No Kids Sleeps on the Floor in Our Town. On Saturday, May 21 at Lake Lansing Park South, Marsh Road several local Kiwanis clubs sponsored and helped build beds for local children. The event was run by the Sleep in Heavenly Peace organization. The East Lansing Kiwanis Foundation contributed $500 for building materials.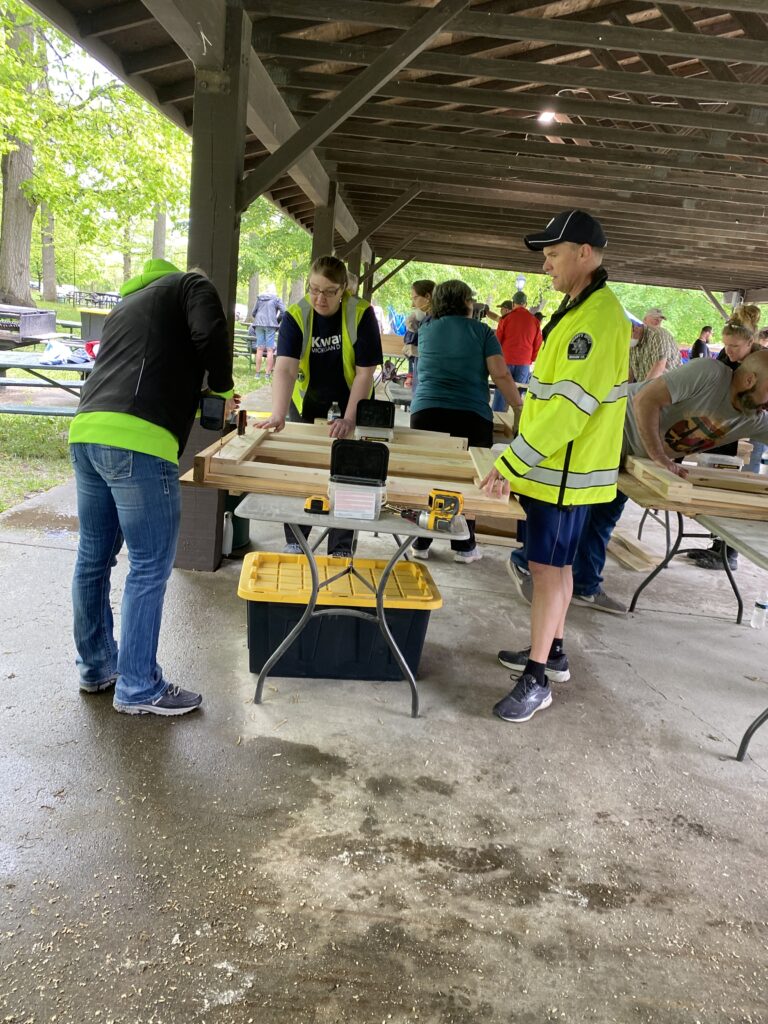 Meal Packs for Davies Project
In an ongoing project, our club has supplied food packs for the families taken to medical appointments by the Davies Project. We purchase, package, and deliver these packs to the Davies Project office every couple of weeks.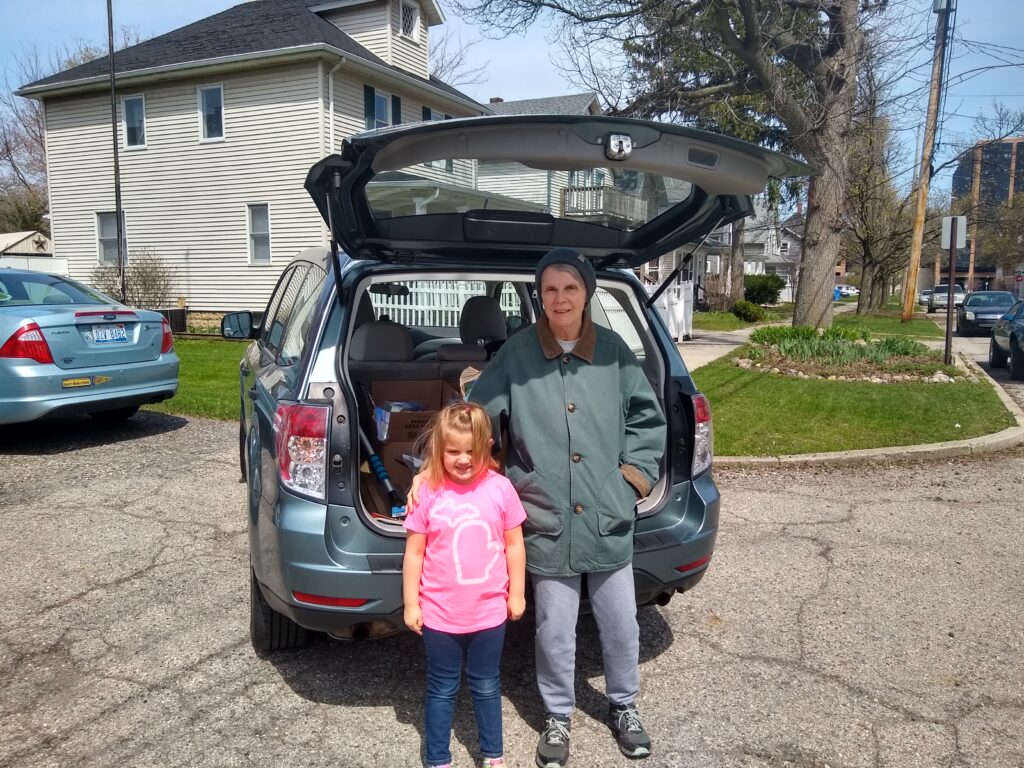 Longtime Kiwanian and former East Lansing Police Chief Bob Foster passed away on January 1, 2022. An obituary can be accessed here.

Annual Easter Candy Hunt
The Kiwanis Club of East Lansing Candy Hunt was back in full form this past Saturday, April 16 at Patriarche Park. More than 200 parents and children stopped by to hunt for candy and enjoy the brisk Saturday weather. Thanks to our volunteers Dick Stilwell, Chet & Fran Lewis, Norbert Kerr, Laura Lockwood, Dave Bueche, John Merton, Ken Dimoff, Dave Regan & Scott Greenlee who braved the Michigan morning. Two of East Lansing's finest police officers joined us to start the hunt! Many of our participants brought a kids book for our literacy program. Check out these photos of a fun time!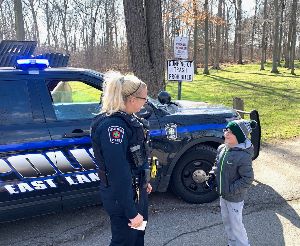 Memorial to Don Powers
In partnership with the Pinecrest Community Association, our club recently installed this bench at the Henry Fine Park, near the Pinecrest Elementary School. The bench honors our late member, Don Power, who took a vital interest in the East Lansing community.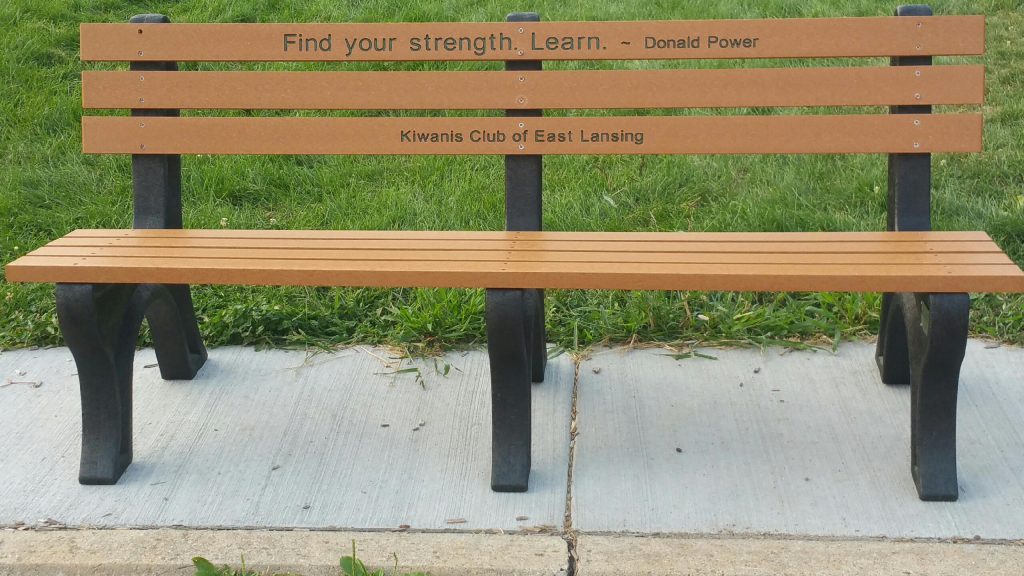 Note of thanks from Maureen Powers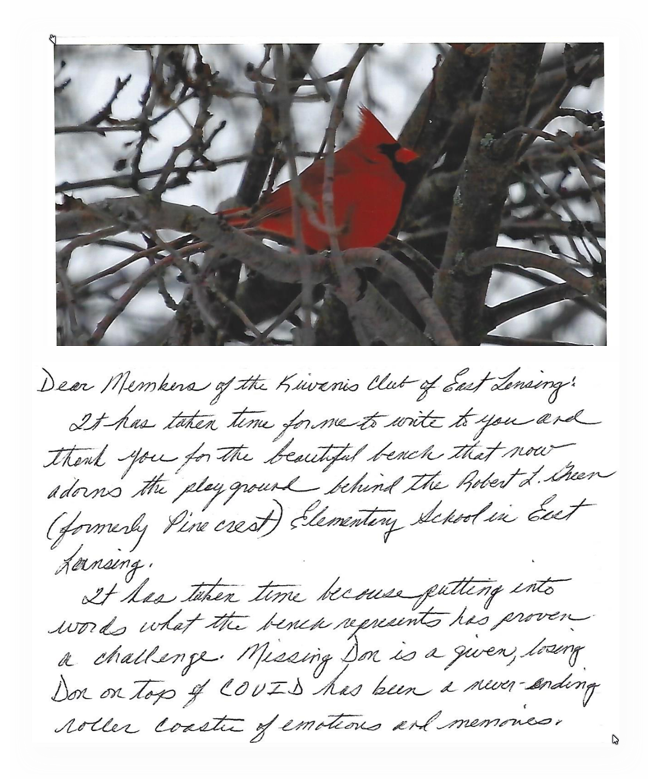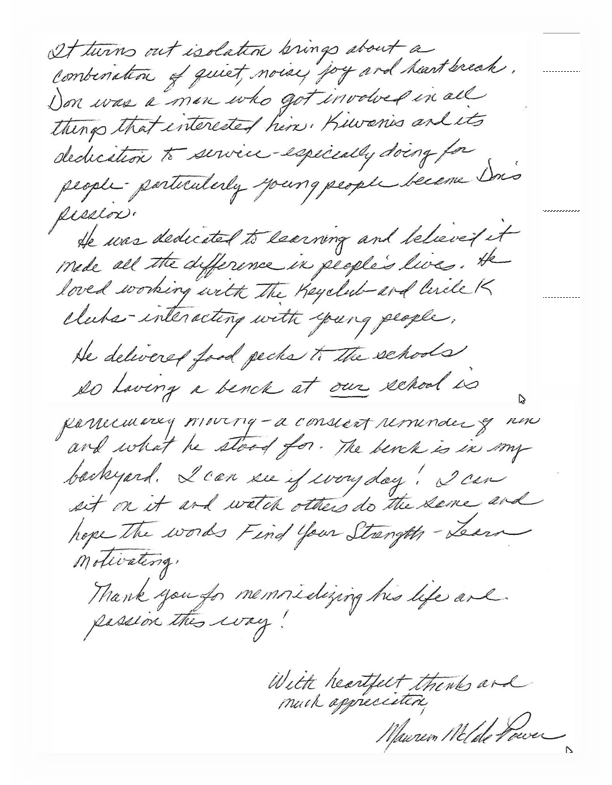 Inaugural BBQ Football Classic held on October 8, 2021
The Kiwanis Club of East Lansing was excited to partner with East Lansing Public Schools to present the first annual BBQ Football Classic! On Friday October 8 folks could enjoy the traditional Kiwanis Chicken Dinner at one of two locations – in a drive thru line at Patriarche Park or at East Lansing High School. Then they could attend the game and root on our East Lansing Trojans as they battled Holt . Proceeds went to support Kiwanis's work in the community as we work to accomplish the Kiwanis Mission of making the things better for the children of the world.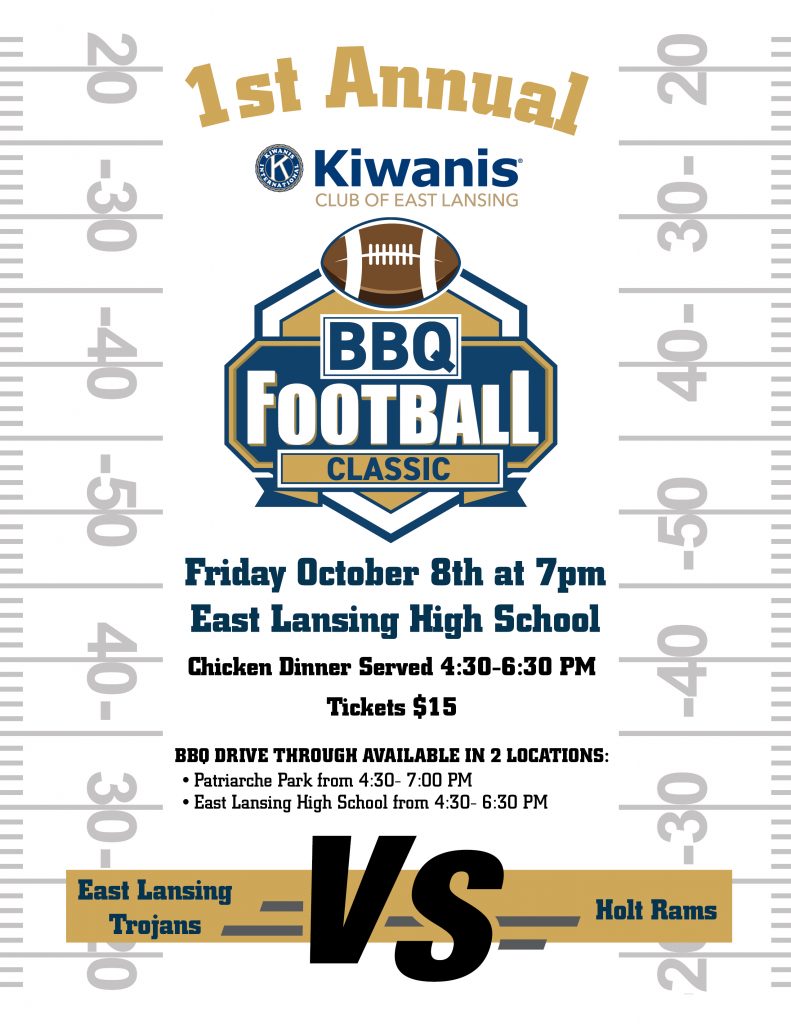 East Lansing Kiwanis receive award
On September 23, 2021, at the annual Drive Change Breakfast, held at the Lansing Country Club, our club received the Above & Beyond Award from the Davies Project in recognition of our partnership to provide snacks to children, parents, and drivers involved in the Davies Project.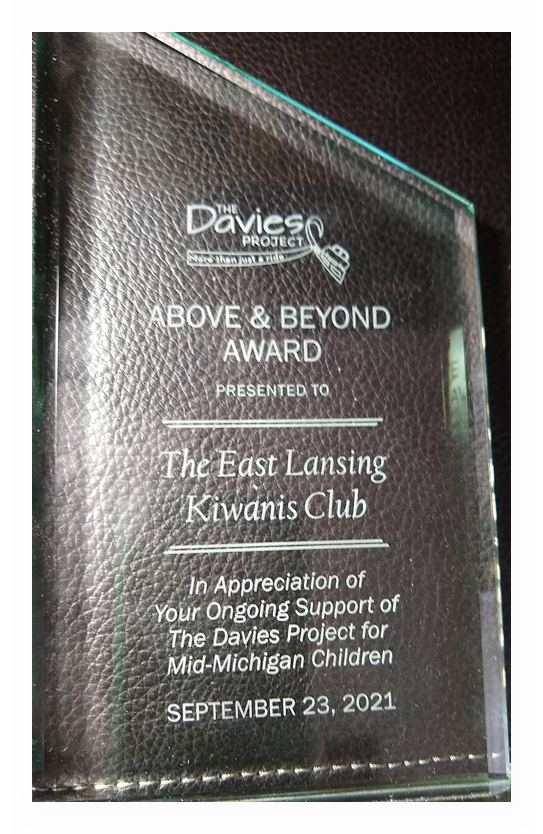 2021 Easter Candy Hunt conducted via Drive Through

First round of Dictionaries Delivered (Feb 2021)
Our club usually gives each 3rd grader a dictionary and each 6th grader a thesaurus during the Fall semester. Because of the pandemic and the closing of local schools, we were unable to do this in the Fall of 2020. However, we have belatedly begun this process by delivering dictionaries for all the 3rd graders at St. Thomas Elementary and Pinecrest Elementary. We expect to complete this project as soon as the rest of the schools have opened to in-person classes.

Holiday Meals delivered on Christmas (12/25/2020)
Our club partnered with the Volunteers of America and the St. Luke Lutheran Church of Lansing to bring Holiday Meals to local families. The Foundation of the Kiwanis of East Lansing gave a grant of $300 to this program which was used to purchase food. And on Christmas day, club members picked up and delivered the meals to the families.

Thanks from the Davies Project (12/24/2020)
Over the past year, our club has donated food, packaged and delivered food packs, and donated children's books and toys to the Davies Project. We were gratified to receive the following note from them:

December 4, 2020. Bell Ringing for the Salvation Army.
Every year members of our club volunteer to ring the bell at a Salvation Army donation kettle. This year our post was at the Meridian Mall in Okemos. Due to safety considerations during the pandemic, of course we wore masks and maintained safe distances from the shoppers in the mall.

Nov./Dec. 2020. Thanksgiving and Holiday meals.
Our club has partnered with the Volunteers of America and the St. Luke Lutheran Church of Lansing to bring holiday meals to local families. The Foundation of the Kiwanis of East Lansing gave a grant of $1000 to this program which was used to purchase food. And at the holiday, club members pick up and deliver the meals to the families.

Fall 2020 & Spring 2021. Delivering food to E. Lansing families.
With local schools in remote learning mode, many children are not getting the meals at school that they normally get. During this past summer, boxes of food have been made available to families with students in the East Lansing schools. Some families cannot come to distribution points to pick up this food, so teachers have been doing deliveries to these families.
With the start of school, the teachers are fully occupied with trying to make remote learning work for their students, and cannot continue to make these deliveries. So our Kiwanis Club is filling the need for delivery drivers by making weekly food deliveries to families that cannot pick them up themselves.
Note of thanks from E. Lansing Public Schools:
From: Glenn Mitcham <[email protected]>
Date: Mon, Mar 1, 2021 at 9:23 AM
Subject: Thank You East Lansing Kiwanis!
To: B Hollstein <[email protected]>
Cc: Dori Leyko <[email protected]>
Good Morning Barb!
I just wanted to take a minute to say a heartfelt thank you to you and your team for all the work you did to deliver meals to our East Lansing Public School Families over the past six months! East Lansing Kiwanis stepped up at a critical time to provide a critical service to our families. Through rain, snow, heat and even an occasional nice day you guys were constant, reliable and sincere.
ELPS was better these past six month because of the way you all stepped in to fill a gap. Thank you for being there.
Sincerely,
Glenn Mitcham, Director of Curriculum, Instruction and Assessment, East Lansing Public Schools

September 2020. Donating hand sanitizers
Our club has purchased several hundred bottles of hand sanitizer to donate to folks in our community–essential workers, volunteers, children, and club members.

August 2020. Delivering snacks to local daycare centers.
Normally, our club provides snacks to local elementary schools for students who need them. During the pandemic, this program has had to be suspended. But in the meantime, in partnership with Kroger, we've been providing these snacks to local day care centers that are open, including the People's Church Preschool, Bailey Preschool & Childcare, and Eastminster Child Development Center.

July 2020. Service during COVID lockdown.
Many of our usual service projects cannot be undertaken under conditions of social isolation and lockdown. However, we have been able to do a bit:
Packing meals for families making doctor visits with transportation supplied by the Davies Project.
Packaging snacks and drinks for essential city workers (police, fire fighters, maintenance workers, etc.)

May-August 2020. Recognizing and thanking essential workers during the Covid Pandemic
Our club is putting signs like this one at several essential workplaces in our community to recognize the vital contributions of all the wonderful people who are continuing to do their essential jobs during the Covid lockdown. Thank you!!!!

Sue Petrisin is interviewed on World Kiwanis Week

East Lansing Kiwanis celebrates its 70th anniversary
Seventy years ago, on November 11, 1949, Armistice Day, the Kiwanis Club of East Lansing was chartered. In the subsequent seven decades, this club has contributed in many ways to the wellbeing of children of the local community, including child nutrition, literacy, fitness, and education. To celebrate the 70th anniversary of the club, a banquet was held on the evening of November 11, 2019, at the MSU University Club. A proclamation from the Michigan legislature congratulating the club was presented by one of its members, Rep. Julie Brixie. Checks representing grants from the East Lansing Kiwanis Foundation to the Bailey Community Association and Rebuilding America—TriCounty were presented to representatives of those organizations. Special guests included officials of Kiwanis of Michigan (Executive Director Greg Smith and Lt. Gov. Tom Perkins), officers from the service leadership clubs sponsored by the local Kiwanis—the MSU Circle K Club and the Key Club of East Lansing High School. Past officers of the club were recognized, including eleven former club presidents, and incoming officers were inducted. A book showing highlights of the club's long history of service to the community was also unveiled. Much of the important service to the community is the result of the dedication and sacrifice of service clubs like the Kiwanis, making this a fitting occasion for celebration.

East Lansing Kiwanis recognized as a Today Club
On July 11, 2019, The Children's Fund sent the following letter to Norb Kerr, club president:
July 11, 2019
THANK YOU!
Dear Norb,

Thank you for your club's support of the Kiwanis Children's Fund. Your gift changes the lives of children around the world.Your club's support qualifies you as a Blue-Level Today Club for the 2017-18 year, because your club's unrestricted gifts last year averaged at least US$10 per member.

Think of the smiles and laughter your gift made possible. The children in need getting nutritious food. Infants protected against a deadly disease. All because your club made a gift.

Next month, you'll receive a banner patch that I hope you'll proudly display at club meetings. In the meantime, I hope you'll also upload this digital patch to your website and social media and let other Kiwanis clubs know about the impact you make on children worldwide.

Again, we sincerely thank you for your club's support. Kids need Kiwanis. And your club's gift helps us reach those who need us most. Thank you.

High School Students of the Month Honored
April 22, 2019 (East Lansing, MI). On Monday, April 22, 2019, at the East Lansing High School, the Kiwanis Club of East Lansing sponsored an award ceremony for eight students recognized as Students of the Month during the past school year. Each student was selected by a different department of the faculty (such as math, visual arts, and so forth). A teacher from each department introduced their selected students and described some of their accomplishments. Each student was also able to introduce family members who were present for the ceremony. A commemorative certificate from the State Legislature was presented to each awardee by Dan Opsommer, Chief of Staff for State Rep. Julie Brixie.
The awardees were:
• September 2018: Katarina Rothhorn
• October 2018: Benno Staszewski
• November 2018: Shaingyi Lin
• December 2018: Anaiis Rios-Kasoga
• January 2019: Teema Mohammad
• February 2019 Shaingyi Lin
• March 2018: Lillian Kakela
• April 2019: Hunter Hambleton
• May 2019: Ana Comstock
This event was proudly sponsored by the Kiwanis Club of East Lansing and the East Lansing Public Schools.

2019 Annual Candy Hunt
On Saturday, April 20th, 2019, the Kiwanis Club of East Lansing conducted its Annual Candy Hunt at Patriarche Park in East Lansing. At 10am the police car siren sounded and some 200 children (with assorted parents and grandparents in tow) ducked under the police tape and dashed across the park, scooping up not-terribly-well-hidden bags of candy.
The event was open to any and all children up to the 5th grade. So that the bigger kids didn't crowd out the littler ones, there were separate areas for pre-school through kindergarten, 1st-2nd graders & 3rd-5th graders.
This event is proudly sponsored by the Kiwanis Club of East Lansing, City of East Lansing & East Lansing Public Schools.

Memorial for Lawton Connelly, former East Lansing police chief and long-time Kiwanis member
Click here to see story in Lansing State Journal reviewing the career of Lawton Connelly.

Kiwanis Club Sponsors Debate on Prop. 1
On Monday, October 15, the Kiwanis Club of East Lansing hosted a debate on the pros and cons of Proposal 1, the Marijuana Legalization Initiative. It took place at Dublin Square Irish Pub, 327 Abbot Rd, East Lansing, MI 48823. The debaters were
Scott Greenlee, President of Healthy and Productive Michigan, a group campaigning against the initiative.
Jeffrey A. Hank, Founder of MI Legalize, a group campaigning for the initiative.
The debate constituted the program of a regular meeting of the East Lansing Kiwanis club. After a brief business meeting, starting at 6:00pm, the debate followed. The order of speaking was determined by a coin toss. Each speaker was given 12 minutes to present their prime arguments, and then had 5 minutes of rebuttal time. The event concluded with questions from the audience. Copies of the ballot title and summary were provided.
Kiwanis Club of East Lansing President Norbert Kerr commented, "The East Lansing Kiwanis is wholly apolitical and endorses no candidates or ballot proposals. In that vein, it may be of interest to note that the two opposing debaters are both members of our club. We do, however, support a well informed electorate. Since the primary focus of Kiwanis is on children and young people, this is particularly important for issues that may affect them, such as Proposal 1. We hope members of the East Lansing and neighboring communities will join us to learn more about this important ballot issue."
People may request more information by contacting Norbert Kerr at [email protected] or sending a message to the club through their Facebook Group (Kiwanis Club of East Lansing).
The Kiwanis Club of East Lansing is part of the Michigan District of Kiwanis and Kiwanis International. The global organization's Mission is to empower communities to improve the world by making lasting differences in the lives of children. For more information about Kiwanis locally in East Lansing, please check out elkiwanis.org.